Initial results from a selective breeding program at the National Institute of Agricultural Botany based in Cambridge in the UK, indicate the successful creation of a new super wheat. Scientists combined a more primitive plant with a modern wheat variety to create a new strain. Early plantings are yielding productivity increases of 30% over traditional wheat varieties. The scientists plan five years of testing before introducing the new strain to farmers.
The technique of synthesizing the new wheat variety involves cross pollinating durum pasta wheat with the seed embryo of wild goat-grass, a primitive wheat ancestor. The resulting hybrid plants yield seeds which are then further used in cross breeding with other wheat varieties. No genes were inserted into the plant genome. With wheat representing 20% of global caloric intake any improvement in yields for our planet's growing human population is welcome. And it is good to know that selective breeding is still an option in the present day. After all that's how we started the Agricultural Revolution 10,000 years ago.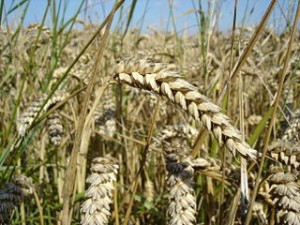 Dr. Tina Barsby, CEO of the National Institute states in a press release dated May 13, 2013, "The original ancient cross has, so far, provided the genetic basis for all today's modern wheat varieties. Over the years, domestication of the wheat plant has increased yields, but recently those increases have slowed leading to concerns for future food security. This is partly because domestication has eroded wheat diversity and the possibilities for improvement from within the current wheat germplasm pool are reaching their limit.
"NIAB's Synthetic Hexaploid Wheat breeding programme re-captures some of that variation from those ancient wild relatives lost during the domestication of wheat as agriculture evolved. Fully crossable with modern wheat these synthetic wheats are an excellent bridge for transferring novel sources of genetic diversity from wild relatives into varieties already grown by farmers across the UK."