September 14, 2017 – In my email inbox this morning I received a note from Professor Tim Flannery, Chief Councillor in Australia's Climate Council, a body formed by scientists and researchers after the government axed its environmental budgets focused on climate change. Flannery and colleagues, in response to the lack of action by Australian political leaders, the former Prime Minister, Tony Abbott, and the current one, Malcolm Turnbull, formed the Council backed by a crowdfunding campaign.
Today that Council, composed of experts and volunteers are providing accurate information on climate change independent of the government of Australia. A visit to the Council's website provides you with a wealth of reports and studies backed by good science. That can't be said for what gets published by Australia's government.
One of the latest Council initiatives is the Cities Power Partnership, a national program focused on Australian communities to help them tackle climate change by moving to a low-carbon economic future. The program is aimed at Australia's more than 500 city and town councils asking them to take a number of actions with a primary focus on clean energy. The Partnership is aimed at:
Increasing the use of renewable energy in urban infrastructure
Encouraging and developing programs to enlist home owners in installing and using solar energy
Setting mandatory benchmarks for solar energy inclusion in any new urban construction
Increasing the use of electric vehicles (EVs) in public transit and city services
Improving energy efficiency in existing urban infrastructure
Providing assistance in improving energy efficiency in private homes
Partnering with other cities and sharing successes
Advocating for a clean energy, sustainable future and a successful transition to a low carbon economy
Flannery states in his email that since the government sacked so many of its members it has fought back, "changed the debate," "stood up for science," and "educated millions of Australians on the impact of climate change."
The Cities Power Partnership believes that transforming the way cities produce energy alone will deliver "70% of the total emissions reductions we need to avoid dangerous climate change."
So far 35 urban councils in Australia have signed up, a small fraction of the total needed to make the program a success. And for the cities already on board, they have to pledge themselves to a rigorous series of steps beginning with the selection of 5 key actions focused on renewable energy, efficiency, transport, and advocacy. Once that is done they institute programs under very specific guidance and then report their progress every 6 months. You can download the details from the partnership page at the initiative's website if you would like to see similar actions taken by cities in your country.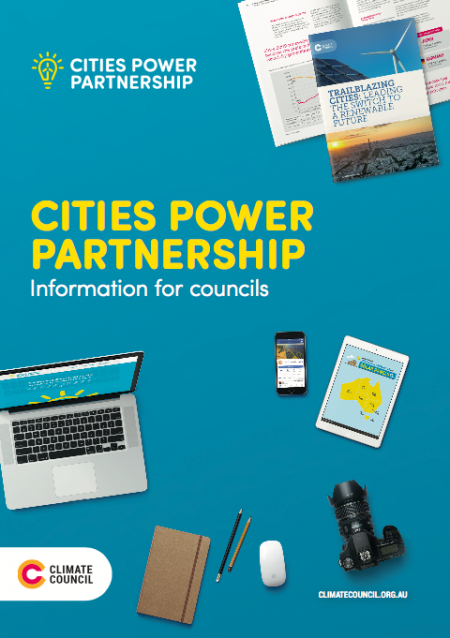 Australia is under the gun because of climate change. In the last two summers the country has seen 200 temperature and rainfall records fall, has experienced bushfires across large areas of the hinterland, watched more of the Great Barrier Reef succumb to bleaching because of a warming ocean, and watched sea levels rise to potentially threaten the vast majority of its cities which hug the coastline. Being at the forefront of climate change should lead to action and yet Australia's governments have lagged far behind much of the world in addressing the human tragedy that awaits.
What the Council is doing for Australia is democratizing action on climate change at the local level rather than waiting for state and federal government action. Doing it through cities makes perfect sense since the majority of humanity now lives in them and the strategy is becoming common in many other countries. For example, the C40 group is an organization of cities from many countries with similar focus. Presently it has 91 city members from 50 countries representing 25% of global GDP, and 1 in 12 people on the planet.
In Canada, the Federation of Canadian Municipalities has launched Partners for Climate Protection. Cities have been advised to develop climate action plans that include renewable energy, retrofitting existing buildings and homes, hardening infrastructure to combat extreme weather, and getting internal combustion engine driven cars off the street by replacing them with EVs, and expanded mass urban transit.
In the United States more than 200 cities, in light of President Trump announcing America's withdrawal from the Paris Climate Agreement, immediately banded together in a pledge to meet the greenhouse gas reduction targets set by President Obama's administration. Since then, even more U.S. cities have joined.
Our salvation may yet come from cities and groups like Australia's Climate Council. Kudos to them.