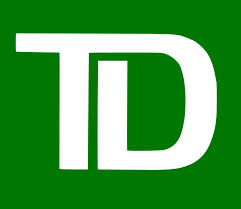 April 18, 2014 – The Toronto-Dominion Bank, currently vying for the number one position in Canada, and a growing player in the United States, issued on April 14 a special report, Natural Catastrophes: A Canadian Economic Perspective. The document doesn't directly talk about climate change but it is inferred throughout. Instead it talks about "weather conditions" and their socioeconomic impact.
As banks would normally do they look at the financial implication of more extreme weather events and estimate the annual cost to Canadians at $5 billion by the year 2020, and $21 to $43 billion by 2050. "There is evidence from around the world that natural catastrophes are on the rise," states the report. It goes on to talk about unprecedented damage caused by the Calgary and Toronto floods of last summer. It also talks about the ice storm that struck Toronto in December although the economic impact in terms of dollars is not recorded in the Top 10 chart displayed below. Note the dollars trending upward over the 10 years displayed here.


In 2013 the Insurance Bureau of Canada released data on severe weather losses across the country. It was a record $3.2 billion.
In TD's report it further reinforces what the Insurance Bureau is seeing in the trends and states the following:
There is evidence that severe weather has become more common in Canada, with 40-year storms now happening every 6 years in areas of the country.
Urban intensification is increasing population density and consequently weather events that strike cities severely impact a larger number of people.
Costing projected natural disasters and upgrading infrastructure before they happen will yield a 9-$38 return on every dollar invested to avoid damages.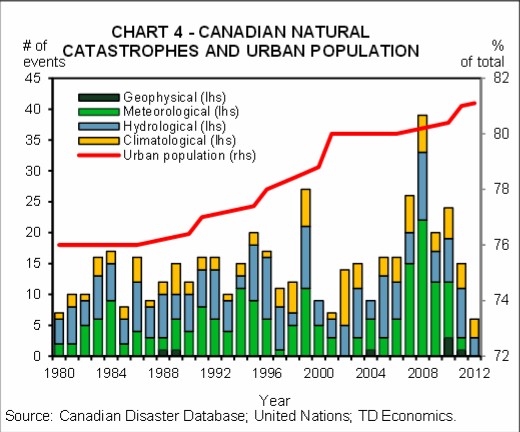 The bank report concludes that there is little sign that this trend will alter and advises business and government to "start thinking of the long term-implications, and place a larger emphasis on catastrophes when making investment decisions. Businesses need to identify how these events impact their bottom line and adjust long-term financial plans accordingly. Governments need to takea close look at their inventory of infrastructure to identify vulnerabilities and areas where proactive adaptation can prevent future damages, loss of life, or economic disruptions. Awareness and preparation is the first step toward ensuring the safety of people, property, and prosperity."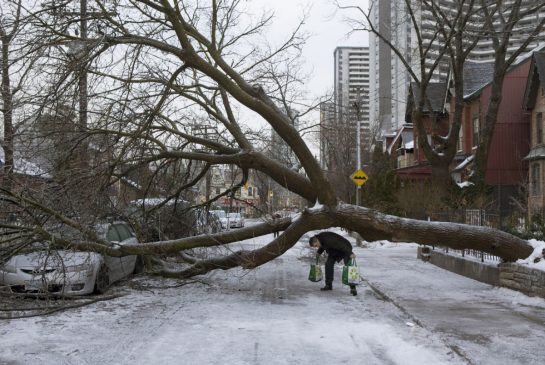 When a bank starts telling the government and industry to sit up and take notice about the change that is occurring around the country and the world you might think that they would take notice. Currently, however, the Government of Canada remains on a course of unfettered expansion in the resource sector regardless of whether the industrial impact may be a contributing factor to the growth in the number and cost of natural catastrophes brought on by weather events.
In every respect the bank is saying the same things that can be found in the recently published IPCC report produced by scientists from around the world. The only difference is the word "weather" has replaced the word "climate."
Related articles across the web