June 16, 2014 – In an article appearing in the Midwest Energy News last week it was reported that IKEA was completing the building of a store in Merriam, a suburb of Kansas City, Kansas, that uses geothermal and solar energy for much of its heating and cooling needs. This the second store in the United States to install geothermal system technology. The first opened in 2011 at a 38,355 square meter (415,000 square foot) store in Denver, Colorado.
In our recent downsizing move to an apartment we had to sell much of our furniture to accommodate a smaller place. IKEA became a destination place for us as we picked out the kind of furniture, lighting and home furnishings better suited to our new place. I noted that the store here in Toronto had solar panels on its roof.
But geothermal is something entirely different and rarely found in North America. For the new store in Merriam, Kansas, the geothermal heat pump system lies below and around the facility. It contains 180 boreholes each 15 centimeters (6 inches) in diameter, spread over 7.69 hectare (19 acre). Each borehole is 183 meters (600 feet) deep and containsa network of underground pipes. The hole depths have been determined by soil conditions and thermal conductivity.The picture below shows you just what a geothermal heat pump system looks like before installation.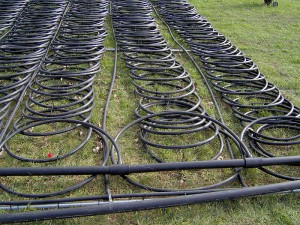 For the Merriam store the pipes contain 136, 275 liters (36,000 gallons) of a water-based antifreeze solution which as it circulates cools to the ambient underground temperature, a constant 12.8 Celsius (55 Fahrenheit) degrees. In the store 64 heat exchange pumps provide cooling for summer and warming for winter. The geothermal system also provides power and water for bathrooms and the in-house restaurant refrigerators and freezers. On the roof the store has 2,850 solar panels producing 1.3 million Kilowatt-hours of electricity. The combination of geothermal and solar is expected to meet 20 and 40% of the store's entire energy requirements.
This latest installation is part of a much larger effort by IKEA to implement a sustainable business model to transform its business. In the company's IKEA Group Sustainability Strategy for 2020, it states, "we can no longer use 20th century approaches to meet 21st century demands."
IKEA is a private company and its focus on sustainability is about corporate citizenship. It has installed or plans to install 120 rooftop solar arrays on stores and warehouses throughout its chain. It has recently acquired six company wind farms and to date the investment in renewables is generating 27% of the company's total operational energy needs, while at the same time the company is reducing energy consumption per store and warehouse facility. Today stores and warehouses are respectively consuming 10% and 33% less than in 2005.
The company has also reduced the amount of waste it generates from its stores with less than 15% going to landfill. Waste wood is being turned into composite boards for use in some of its furniture. The lacquers and glues used in production now contain reduced levels of chemicals like formaldehyde. Store lighting today is compact fluorescent with the stated goal to move to LEDs throughout the chain in the next two years.
IKEA is making sustainability a core value as it strives to meet three stated objectives in its "People & Planet Positive" strategy:
Inspire customers to follow a sustainable life model by developing and promoting reasonably priced products and solutions designed to help them at home generate renewable energy, practice conservation of both energy and water, and encourage recycling to reduce waste going to landfill.
Strive for resource and energy independence for the entire company by securing long-term access to sustainable raw materials, promoting recycling, and consuming resources in synch with the limits of our planet. The company intends to produce more renewable energy than it consumes and accomplish energy efficiency throughout its entire value chain from suppliers to transportation to warehousing and retail distribution.
Follow a code of conduct that strives to be a good neighbour to the people and communities in which IKEA operates by acting in the best interest of all humanity including children, customers and employees.
To this end the company's 2020 objectives include a fourfold increase in the sale of products and solutions focused on sustainable living at home. This includes objectives in terms of sourcing sustainable wood products, cotton, and packaging.
In energy consumption the 2015 objective is to produce 70% of the company's requirements from renewable sources and by 2020 achieve 100%.
All new facilities are being designed and equipped based on sustainability standards.
All suppliers are being assessed and measured against the company's own sustainability standard.
All energy consuming products by 2020 are to be 50% more efficient than the products the company was selling in 2008.
By 2016 the company's lighting products will be exclusively LED.
By 2016 the majority of wood, leather and other materials used in furniture and accessories, and palm oil used in candles and food will come from sustainable sources.
By 2020 30% of the wood used will be recycled.
IKEA is a private company. They are not accountable to shareholders. The company leadership, however, feels it is responsible for its participation as a citizen of the planet and sees climate change and sustainability as critical to its survival as well as that of its employees and customers. So it has chosen a path to incorporate sustainability in everything it does knowing that in the end a sustainability business model will be profitable much sooner than most would think.
I keep wondering why a company like IKEA can embrace sustainability as a core value while governments cannot.