In a previous blog I wrote about both the over 70 and under 35 innovators of the year as chosen by MIT. In the under 35 category we covered the inventors. In this posting we continue with those under 35 who have been selected as entrepreneurs.
Entrepreneurs Under 35
Dmitri Alperovitch – at age 32 a developer of active cybersecurity defenses that use a wide range of sources to detect traces of potential threats and act upon them. His company is CrowdStrike.
Leah Busque – at age 33, a former software engineer at IBM who has developed TaskRabbit, an alternative to Craigslist and Kijiji for those seeking or employing people in odd jobs. Designed to specifically link job seekers and providers by locality, the application currently covers 14 U.S. cities.
Anthony Goldbloom – at age 30, a former business analyst and number cruncher, a self taught programmer, he has created a website called Kaggle where scientific minds can apply themselves to solve problems posted by companies. Today the user base has surpassed 100,000.
Dmitry Grishin – at age 34, is revolutionizing personal robotics having set up Grishin Robotics, a venture firm which he has capitalized with $25 million. Grishin came to my attention back in July last year when I wrote about the company he has created which has since my first posting invested in several ventures including DoubleRobotics and RobotAppstore.
Ben Milne – at age 30, has founded Dwolla, an electronic funds transfer website that charges 25 cents per transaction on amounts greater than $10, and nothing if the amount is less. Launched in 2010 it has grown into a money exchange handling millions of dollars daily.
Bright Simons – age 31, is the developer of the mPedigree Network, a mobile network that detects whether products consumers are using are authentic or fake. His background is astrophysics but he has helped African farmers get certified as organic producers to improve their income from sales of agricultural products. The focus of mPedigree is the detection of counterfeit medicines, described as Africa's fake-drug monster.
Balaji Srinivasan – age 33, has created Counsyl, a company that helps parents discover whether both may be carrying a recessive gene in his or her DNA that could cause a birth defect or genetically acquired disease for their offspring. The test costs $99. It uses a saliva swab to analyze 100 genes associated with recessively inherited diseases. If both parents' DNA contains a defective copy of one of these 100 genes it means a 25% risk for the child having one of the tested diseases.
These enterprising and talented MIT honorees are seen in the picture below. From left to right in the top row we have Dmitri Alperovitch, Leah Busque and Anthony Goldbloom. In the bottom row from left to right are Dmitry Grishin, Ben Milne, Bright Simons and Balaji Srinivasan.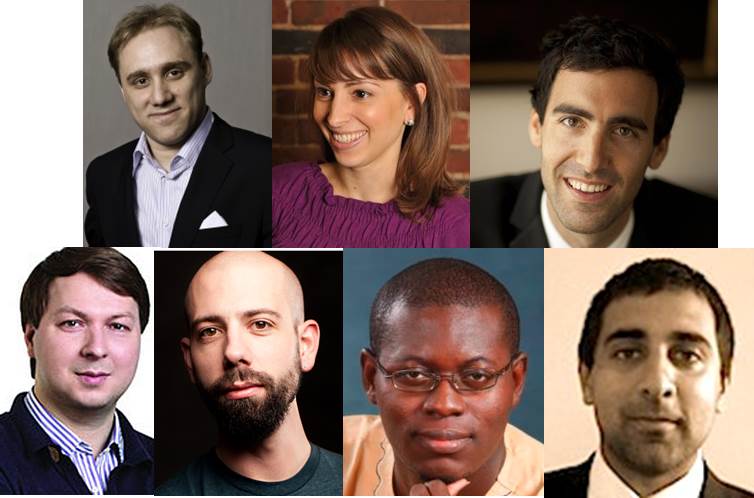 All these young people are developing technologies and applications of enormous impact for the 21st century. Makes you feel pretty good about the future. And speaking of the near future we will continue this series looking at others who MIT has chosen as visionaries, humanitarians and pioneers in 2013.