July 11, 2017 – The interior of British Columbia (BC) is burning this summer. And so is the interior of California. Why? Because tinder dry conditions, bad forest management practices, abnormal heat, and lightning strikes are combining to create unprecedented numbers of wildfires. In BC it is reported that between 220 and 230 fires have broken out (see map below) across the Province consuming some 38,000 hectares (almost 94,000 acres) so far. The Province has declared its first state of emergency since 2003. The outbreak in BC comes a year after the Fort McMurray, Alberta, wildfires that consumed an area more than 10 times larger, enveloping the entire city and its surrounding forests.
Forest ecologists point out that BC's past success combatting wildfires has created the precarious conditions today where forests are even more prone to fire outbreaks. Dense stands of trees exist because of past firefighter success. This density impacts groundwater reserves negatively. dries out the forest floor, and creates kindling which can be set off by an errant discarded cigarette or a lightning strike.
States Lori Daniels, Associate Professor of Forest Ecology, University of British Columbia, "We are on the path that was projected related to climate change….And as we look to the future, the kinds of fire weather conditions we have now that we consider extreme….become more like our average conditions. This is very disconcerting and it is a serious concern for us."
Daniels notes that the wildfire season is coming earlier, a trend over the last two decades. Hot, dry weather, which usually came in late July, is happening now as much as a month ahead. The risk of mega-fires is real as the fire season grows longer and wildfire incidents and severity increase. Add to this the devastation caused by the Mountain Pine Beetle which has infected almost 18 million hectares of BC forestland and you have burn projections doubling over the next 20 years.
As a result, the Province's fire planning and management is changing its ways in the face of climate change. That means identifying the new areas of wildfire risk, altering land use and the wildland-urban interface, developing fire-resistant building standards, and creating a future fire resilient landscape.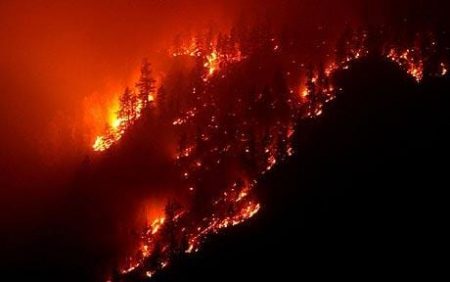 In California and other parts of the Western United States, the experience of BC is mirrored by a fire season that is getting longer and more fierce. Currently, 60 large wildfires (see map below) are consuming millions of hectares of forestland. The amount of burning thus far is equal to the total of fire seasons from the 1980s. Forest ecologists in the U.S. call it the new normal. Steven Pyne, Arizona State University, who has published more than 30 books, most of them dealing with fire, has aptly named this new era, the Pyrocene.
The same fire suppression techniques as those employed in BC represent one contributing factor to this new wildfire era. The same increase in forest kindling can be found in U.S. forests. The same drying in recent decades is happening as well. A 2015 study on anthropogenic climate change suggests forest fire susceptibility has doubled in more than 4.2 million hectares (10.4 million acres) since 1984. Kevin Trenberth, Climate Scientist in the climate analysis section of the U.S. National Center for Atmospheric Research, "whatever conditions exist, they're always exacerbated by climate change…always that heat variable, the increased risk."
The U.S. fire season which was 60 days in the past, is now year round. This new reality is leading to the same conclusions as in BC. Forest and fire management needs to be completely rethought as the atmosphere continues to warm. Dense forests are now seen as fire traps. Wildland-urban interfaces, with the encroachment of homes and businesses into fire susceptible areas, need to end. We are needlessly put human lives at risk. And prevention calls for changes not only to forest management but also land use and construction standards. Increasing wildfires are part of our collective commons now, and both Canada and the United States need to adjust to the Pyrocene.
Related articles across the web