November 23, 2013 – Forget cables. Forget whether you are using a VGA or HDMI or DVI interface for your computer display. AIRTAME makes any television a computer monitor where you can display the work on your desktop or laptop to as many big screens as you want. But AIRTAME is even more. It includes the AIRTAME software application that lets you share what's on your computer with multiple devices from classroom projectors to laptops. Nothing is plugged into your computer because AIRTAME uses WiFi.
Based in Copenhagen and founded this past July, AIRTAME is tight-knit company of young software geeks led by Jonas Gyalokay, CEO, an IT graduate of the Copenhagen Business School. His team of partners includes bright young minds from the Technical University of Denmark, Arrhus University and The Royal Danish Academy of Fine Arts. Right now AIRTAME has launched a campaign to raise $160,000 on Indiegogo and so far are about a quarter of the way to accomplishing their goal with 40 days left in which to make it.
How does AIRTAME work? Plug the AIRTAME hardware into the HDMI port on your television and power it up with the USB cable (see image below). Install the software on your computer. When you launch the application you will be able to see any AIRTAME enabled devices in the immediate vicinity. Choose the one you want to send your display to and sit back and watch. You can share what's on your computer screen or extend your desktop to multiple screens. Or you can watch a video or working presentation on your television while opening another window on your computer to make notes. Want to share whats on your screen with other computer users in your classroom? If they have AIRTAME just connect to them and they'll see what you see on their displays.
AIRTAME looks like it will be priced at a very affordable $89 U.S. and if all goes well should start to ship in May 2014. You can still get in on the action with an $89 pledge on the Indiegogo site to be among the first to get the product. The $69 early adopter category is already sold out.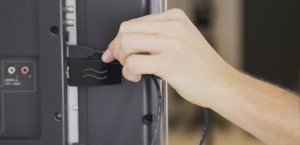 Related articles across the web