February 8, 2014 – It's called QardioArm and it provides users with a blood pressure monitoring system that tracks your systolic and diastolic pressures plus heart rate and keeps a comprehensive history with its accompanying smartphone app.
The device is worn on your arm and transmits vital signs wirelessly. You can share your data with a healthcare provider remotely so that he or she can review your health status and contact you when needed.
All data collected by QardioArm gets stored in the cloud on a secure server by the company that invented the technology. Based in California, Qardio's mission is to make monitoring heart health simpler for everyone. They are creating devices like QardioArm that are smart, wearable and connected. Currently it is integrated to work with Apple iPhones, iPods and iPad devices.
The company is still in early launch phase and have received pledges of over $134,000 in an Indiegogo campaign with 12 days still to go. That's $34,000 over their funding goal and demonstrates the level of interest in this portable blood pressure monitoring device.
Qardio has also developed QardioCore, an easy to apply medical device that replaces holter monitors. It can continually monitor heart rate under all kinds of physical conditions, and provide body temperature readings and ECG output which can then be transmitted wirelessly just like the QardioArm.
QardioArm can be pre-ordered on the company website and costs $85 US.  QardioCore retails for $449 US, a fraction of the cost of much bulkier holter monitors.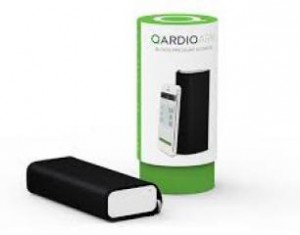 Related articles across the web