January 12, 2014 – FLIR ONE (TM) is the first thermal imaging system to operate in tandem with a smart phone. Available for the iPhone 5 and 5s this coming spring and later in the year for Android devices, it attaches to your smart phone and measures thermal infrared energy emitted by objects. Thermal imaging gives you the vision to see at night just like the goggles worn by the military. But beyond seeing stray animals or a lost pet you can also use it to identify the location of wall studs, hot and cold water pipes, electrical wiring, water and cold air leaks, hot spots after a fire appears out, and much more.
The FLIR ONE provides a protective case (see picture below) for your smartphone and incorporates its own rechargeable battery capable of boosting the phone's operating time by as much as 50%. Use it to display a live thermal image or capture thermal video and still frame pictures. Just like your phone's regular camera you can share the pictures you take with social media contacts. The battery provides for 2 hours of continuous use.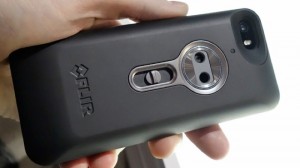 Choice of colours – space grey, white and gold. Price – less than $350 U.S. A software development kit for FLIR ONE apps is expected to be out in the first few months of 2014.
Some basic specifications:
Scene range temperature: 0 to 100 degrees Centigrade (32 to 212 Fahrenheit),
Operating temperature: 0 to 45 degrees Centigrade (32 to 113 Fahrenheit),
Weight: 90 grams (a little over 3 ounces),
Dimensions: Length – 14 centimeters (5.5 inches), Width –  6.1 centimeters (2.4 inches), Height – 2.16 centimeters (0.85 inches),
Battery capacity: 1400 mA/h (configurable between thermal imager and iPhone battery bank life),
Core: FLIR (R) Lepton thermal camera core,
Visible camera: VGA,
Charging method: micro USB and 900 mA wall charger (charges FLIR ONE and then the iPhone),
iPhone connection: through USB interface,
Compatibility: currently with iPhone5, iPhone5s running iOS 7 or above, later in 2014 with select Android phones,
Included Apps: FLIR ONE MX
Included accessories: USB charging cable, leatherette case
Certifications and standards: complies with FCC, CE, RoHS
To reserve your own FLIR ONE go to the website link provided here.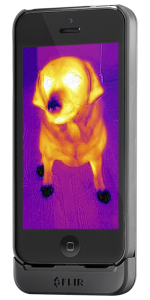 Related articles across the web