If you ever have used a salad spinner to dry out your lettuce then you know the principle behind the GiraDora, loosely meaning "spinning washing machine" in Spanish. GiraDora both washes and spin dries clothes placed in it, and it does it without electricity, just pedal power.
GiraDora, seen in the schematic below, looks like a plastic rain barrel with a cushioned seat on top.  An inner injection molded nylon basket sits within the barrel. A central drive shaft connects to a mechanism that agitates, cleans, rinses and spin-dries clothes. The operator sits on the padded seat cushion on top and operates the single pedal to turn the inner drum. Watch the Vimeo video to learn more about this low-tech revolutionary innovation.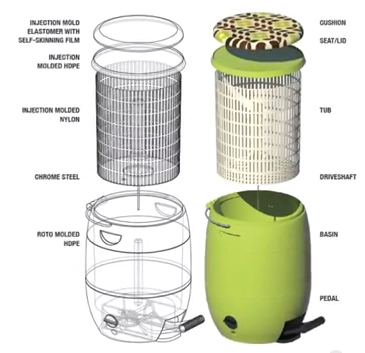 With access to electricity and clean water a premium in many Developing World countries, GiraDora represents a technology that can save hours of back-breaking work that often leads to chronic injuries for those responsible for domestic cleaning, mainly women. GiraDora replaces hand washing in rivers and drainage ditches. It replaces hand-wringing of clothes for drying. It means fewer chronic illnesses caused by this labour-intensive work. Conditions include:
chronic lower back pain,
tenosynovitis, a hand-pain condition caused by washing and wringing out clothes using cold water,
incidents of asthma which often occurs with hand washing and manual drying which can take several days to weeks in tropical conditions, leading to the growth of molds.
GiraDora can wash a load of laundry in 3 to 5 minutes. It uses a third of the water needed for hand washing, and the water can be reused. Currently GiraDora is priced under $40 U.S.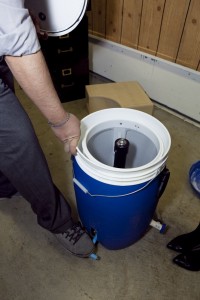 Click here to access the frequently-asked questions online brochure. Plans are to sell the technology initially in Peru and Chile, and then begin manufacturing and selling it in other locations. For campers, college students and apartment dwellers, GiraDora may prove to be a good option.