May 6, 2017 – Genetically modified (GM) crops planted around the world have seen increased adoption rates over the last 21 years according to the latest report from the International Service for the Acquisition of Agri-Biotech Applications (ISAAA).
In 2016 185.1 million hectares (almost 457,144,956 acres). That represents 3.8% of all the land under cultivation on the planet today. And compared to 21 years ago when the first GM crops appeared, the 2016 number represents an 110-fold increase.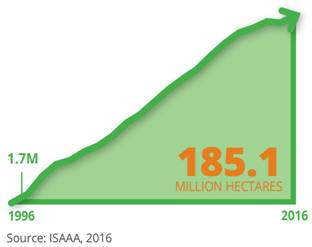 Who are the leading growers of GM crops?
The United States with 72.9 million hectares (175,197,715 acres), approximately 45% of the total land under cultivation.
Brazil at 49.1 million hectares (121 million acres).
Argentina at 23.8 million hectares (58.8 million acres).
Canada at 11.6 million hectares (28.6 million acres).
India at 10.8 million hectares (26.7 million acres).
In the United States, GM crops include corn, soybean, cotton, canola, sugar beets, alfalfa, papaya, squash, and potato.
In Brazil and Argentina, GM crops include soybean, corn, and cotton.
In Canada, GM crops include canola, corn, soybean, sugar beets and alfalfa.
In India, the GM crop is cotton.
In addition to the big four, corn, soybean, cotton, and canola, we see Bangladesh growing GM eggplant and Costa Rica growing GM pineapple.
The most significant increase in 2016 has taken place in Africa. The continent's population explosion has made GM crops far more attractive as a means to achieve food self-sufficiency. Today, South Africa, Sudan, Kenya, Malawi, Nigeria, Ethiopia, Ghana, Nigeria, Swaziland, and Uganda are growing GM corn, soybean, and cotton.
These traditional GM crops which also includes canola are being joined by GM sugar beets, papaya, squash, and apples. Other GM crops in
Still being tested before widespread release are new strains of GM rice, banana, wheat, chickpea, pigeon pea, mustard, and sugarcane.
GM research continues to be focused on:
Increasing crop yields. known as sustainable intensification.
Reducing food waste by creating enhanced genetic characteristics that keep harvested crops fresher longer.
Reducing agriculture's contribution to net carbon emissions.
The latter is possible because larger yields on less land through GM planting means a smaller carbon footprint. Calculating CO2 reductions from GM cultivation in 2015 yields the equivalent of taking 11.9 million cars off the road for one year.
And finally, GM crops in the Developing World are reducing poverty among small farm holders. In 2016, 18 million farms representing 65 million people overcame poverty in switching to GM crops.
The following graphic illustrates some of the above points.

GM crops are a game changer despite the impression that companies like Monsanto, one of the pioneers in the field, have left in the minds of many. The technology will help humanity meet the global challenge of population growth which is expected to exceed 10.5 billion by mid-century. Producing a safe, adequate, quality food supply for all is far preferable to the alternative, increased famine, disease, and malnourishment.