This week's five stories look at:
Tripling the Efficiency of Organic Solar Cells;
New Technology to Fight Coastal Flooding Using Irregular Concrete Blocks;
Long Duration Human Space Flight Being Tested on the ISS;
Pacific Island Entrepreneurs Receive Award for Green Initiatives;
Delivering Wind and Solar Power Over Long Distances Possible with New HVDC Circuit Breaker.
Solar Keeps Looking Better as Cell Efficiency Increases 175% Using Nanostructures
The key to solar cell efficiency is capturing all the light that enters a cell. Using nanotechnology researchers at Princeton University have discovered a way to nearly triple solar cell efficiency. They have created a solar cell sandwich consisting of gold mesh, transparent plastic, plastic semiconductors, titanium oxide and an aluminum base. They call the result a sub-wavelength plasmonic cavity that dampens reflection trapping light entering the cell far more efficiently. Direct sunlight is reflected 4% producing 52% higher efficiency in converting the light to electricity. But indirect sunlight is even more efficient achieving an additional 81% efficiency. Best of all the technology can come out of the lab right away and go into production.
What is New in Coastal Flooding Control After Hurricane Sandy? – The Cubipod

The Polytechnical University of Valencia in Spain has discovered that oddly shaped cement blocks are great when building breakwaters and rebuilding shorelines to inhibit storm surges from flooding coastal areas. Called the Cubipod, the 16-ton blocks are uniform in shape and arrange themselves automatically when piled together. And unlike traditional breakwater systems the Cubipods require no cables to hold them in place. Two Cubipod breakwaters were recently built for Spanish coastal cities, one in Malaga and the other in Punta Langosteira.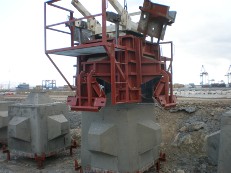 An American and Russian Are Testing the Human Limits of Spaceflight
Two spacefarers are planning to begin a year long visit to the International Space Station (ISS) starting in 2015. The two spacefarers are, NASA astronaut Scott Kelley, and Russian cosmonaut, Mikhail Kornienko. Neither will set a space endurance record. That's because one Russian cosmonaut, Valery Polyakov, spent 14 months on MIR, the former Soviet and later Russian space habitat, in 1994-95.
So why a one-year mission? Because Russian and American space scientists want to study the impact of prolonged weightlessness beyond the current six month stints that are typical of stays on the ISS. For any long duration Deep Space missions in the future, trips to the Moon, a Lagrange Point behind the Moon, Mars or asteroids, a year may be a typical voyage using current propulsion systems technology.
The biggest concerns are the loss of bone mass and pressure changes on the brain and spinal cord that lead to impaired vision.
Solar Powered Lighting Initiative on a Pacific Island Gets Recognition

But it's not for the reasons you think. It appears that selling solar power to Vanuatu islanders has cut down on drunkenness. That's what happened when Green Power started replacing kerosene lanterns, battery powered lights and wood-burning stoves with solar technology. David Stein, Managing Director, states, "With access to artificial lighting, people now have the opportunity to extend the length of the productive day allowing them to study for longer and to broaden access to 24-hour health care." Green Power, as a result has won the SIDS Award, a specialized category offered by the Ashden Awards, a British not-for-profit focused on sustainable development. SIDS  stands for small island developing states. Nominees included companies in Fiji, the Marshall Islands and Palau.

New Breakthrough May Make Transmitting DC Power Easier Over Long Distances
DC stands for direct current, the energy that comes from solar and wind power projects. But the power grid in North America and in many other locations worldwide uses high-voltage alternating current or AC. Transmitting DC over long distances has always been problematic. If a line breaks the entire DC grid fails. But a Swiss company, ABB, has developed a hybrid high-voltage DC (HVDC) circuit breaker making it possible to transmit DC power over long distances. And there are additional benefits. HVDC is more efficient than AC power transmission. That's because a HVDC line can carry much larger loads and lose far less power during transmission. For example, over a distance of 1,600 kilometers (1,000 miles) HVDC may lose 6 to 8% of its power while a comparable AC transmission line could lose 12 to 25%. For wind farms and solar power projects in isolated areas this will make it far easier for them to send power the distances needed to hook into the rest of the grid.
A Postscript
We are two weeks away from Christmas and a mere week from the end of the present world according to the Mayan Calendar. Right to the end, however, we intend to keep on publishing newsworthy stories about technology and scientific breakthroughs. So expect to see us here next Friday with another headlines posting even if it is the last day on the planet.
This week saw readership reach a new record high. Once again I thank all of you who visit this blog and who have let others know about it. Please keep coming back, commenting on postings, and suggesting new topics. Guest authors are always welcome.
– Len Rosen