This week's five stories look at:
Marine Survey of China's Coast Shows Disturbing Results;
With Obama Victory NASA Ready to Reveal Future Human Flight Plans;
Firing Up Your Mobile Phone Literally with New Device;
Robotic Dragonfly the Latest I-Spy Gadget;
Powering Medical Devices by Ear.
Marine Survey of China's Coast Shows Disturbing Results
The picture below states it all. China has a problem on its coastlines. In 2004 the Chinese State Oceanic Administration (SOA) began its survey of the coastal environment. Finally completed in the last month, the results are not encouraging. Here are some very disturbing statistics:
90% of China's coastal cities experience freshwater shortages
China's mangrove habitats have shrunk 73%
Coral reefs have diminished by50% since 1950
Coastal wetlands have shrunk by 57%
48 estuaries are contaminated with heavy metals, DDT and petroleum hydrocarbons
Extensive use of chemical fertilizers is causing algal blooms in coastal waters
Over the last 20 years Chinese coastal waters have experienced 83 red tides per year
Coastal fisheries are collapsing
Krill is virtually extinct in coastal waters
Acidification of coastal waters is reducing phytoplankton
With much of China's urban population located in coastal cities, the government has been reluctant to share the results of the SOA survey with its population. It is clear, however, that the health of its coastal waters is critical to the long-term health of its land-based population.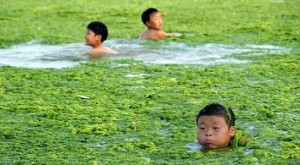 Obama Victory Gets NASA Talking About Future Human Flight Plans
President Obama's NASA plans have included a return to human space flight on American technology by the end of the decade. This includes private American companies developing low-Earth orbit capacity. Now with the President's re-election, NASA is prepared to reveal planned missions to establish a human outpost at the L2 Lagrange point (seen in the right-hand picture below) beyond the Moon's dark side by 2021, with plans to visit an asteroid by 2025, and the vicinity of Mars by the mid-2030s. To do this NASA is investing in the SLS (the massive rocket launcher) and the Orion spacecraft I have talked about in past blog articles and briefly in last week's headlines.
NASA officials recently provided Congress with a  comprehensive report outlining destinations beyond low-Earth orbit. Exploration Mission 1 will be an unmanned launch beyond Earth orbit in 2017. Exploration Mission 2 will be manned with a goal of returning to the Moon and beyond.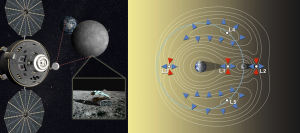 Firing Up Your Mobile Phone Literally with New Device
BioLite builds a wood-burning stove with a built-in charger. It comes in two designs: CampStove (TM) and HomeStove (TM). Both take any type of wood fuel. The heat from the stove powers a thermoelectric generator for charging electronic devices through a built-in USB port.
Originally conceived for camping BioLite is proving to be useful in Developing World countries. By designing the BioLite to incorporate a fan to blow air into the fire for improved combustion, the inventors have minimized wood smoke, a common cause of respiratory problems in Developing World homes where wood remains the primary cooking fuel.
The heat the stove generates gets converted into electricity for recharging mobile phones, MP3 players, LED flashlights, headlamps, rechargeable battery packs and almost any other small electronics that comes with a USB cable adapter. Charging times vary depending on the intensity of heat and the temperature of the surrounding air. According to the BioLite website, an Apple iPhone 4S shown in the picture below takes about 20 minutes to create 60 minutes of talk time. The CampStove boils a liter of water in as little as 5 minutes. The manufacturers recommend hardwoods like maple, oak, or hickory to get a longer, more sustainable burn. Softwoods like pine and fir require more fuel to get equivalent heat.
Currently the HomeStove is being deployed in a number of large-scale pilot projects in Africa and India. Although it is not commercially available, the CampStove is, and lists for $129 US.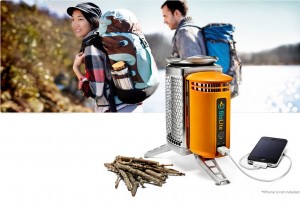 Robotic Dragonfly the Latest I-Spy Gadget
Palm-sized and capable of hovering and darting just like a dragonfly, this new robot is aimed at consumers. Developed at Georgia Tech with funding from a United States Air Force grant, the Dragonfly is about to go into commercial production. Techjet is the company bringing the Dragonfly to market. It runs on a lithium polymer battery. Currently it has enough juice on board to hover for 8-10 minutes and fly for 30 minutes. It can be your personal recorder as you ride your bicycle through the neighborhood, or ski down a slope, or spy on your neighbours over the back fence. Pricing for one – $99. And for a swarm – $949.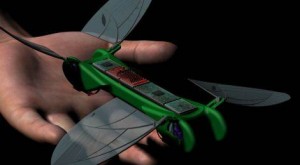 Powering Medical Devices by Ear
Your ear is filled with ions that drive neural impulses. This natural battery can power medically implanted devices without impeding hearing and researchers at Harvard and MIT are studying ways to harness this power source to operate low-power electronic devices. Research is being done using guinea pigs and results appeared in the journal, Nature Biotechnology.
With optimization biologic batteries could power chemical and molecular sensors, drug-delivery actuators, inserted diagnostic devices, or implants to counter hearing loss and other auditory disorders.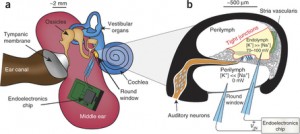 A Postscript
If you are a regular visitor to 21st Century Tech Blog then you will have noted the recent design changes to the site. You'll see even more in coming weeks as I try to make information more accessible both current and archival. Also I have added "Gadgets" which will feature the latest technology gizmos I have discovered in my daily research. Once again thank you for visiting. If you have a topic that fits within the themes of this blog, and a flare for good writing,  then let me know. Guest articles are welcome!
– Len Rosen