December 31, 2013 – According to Medtronic, Inc., they have introduced the world's smallest pacemaker, the Micra Transcatheter Pacing System or Micra TPS for short. Medtronic joins St. Jude Medical who recently announced their own micro-pacemaking technology, the Nanostim which I wrote about back in October.
Medtronic in a December 9, 2013 press release, stated that the Micra TPS had been successfully implanted in a patient in Linz, Austria as part of a larger clinical trial.
Like the Nanostim the Micra TPS is inserted using a minimally invasive procedure, a cardiac transcatheterization. The clinical trial for the Micra TPS will enroll up to 780 patients in 50 centers. The company intends to post the first 60 results with 3 month follow up after mid-2014.
With the Medtronic announcement it appears that we should be seeing similar disruptive new pacemaking technologies appearing in clinical trials over the next few years. For the 700,000 patients who need pacing every year across the globe this is truly an enormous advance in pacemaker technology.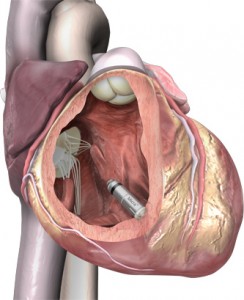 Related articles across the web