January 22, 2014 – The Inaugural Energy New Venture Competition offering $50,000 CDN in prize money, with a grand prize of $25,000, kicked off yesterday in Calgary, Alberta, Canada's fossil fuel capital. Seventeen entrepreneurs were given the opportunity to pitch their concepts to a panel of judges that included faculty from University of Calgary, Schlumberger Technology Corporation, Bluerock Ventures Inc., Fronterra Ventures and the Altira Group. The even was supported by Cenovus Energy.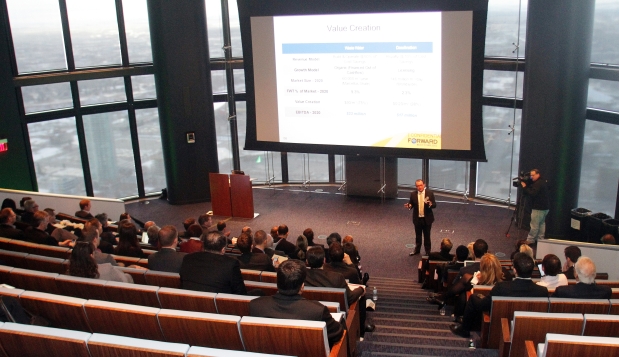 Of the over 40 companies that applied three came out on top. They were:
FREDsense Technologies, a Calgary start up won the big prize by demonstrating a biosensor solution to measure water quality in oil and gas production processes.
Luxmux finished second. This Calgary company is producing the Nano-Spec line of spectrometers, one of which is designed to measure steam quality on site at bitumen extraction operations.
Third went to ENVrecon, a software application designed to automate the process of data collection for environmental impact reports.
The following are among the 14 remaining entries:
Bio Ren, an Indian-based company focused on building biogas generating plants from organic farm waste with fertilizer as an additional product.
Forward Water Technologies, a Hamilton, Ontario-based company developing an osmosis system using CO2-switchable salts to reduce the amount of wastewater produced during hydraulic fracturing.
Fronitech, an Alberta developer of a cloud-based resource for heavy industry environmental planning applications.
 Hydro Processing Ltd., developer of the SAR aerator to treat polluted water.
Quantum Ingenuity Inc., owners of a patented process to produce hydrogen from methanol inexpensively for use in fuel cells.
SIX Safety Systems, an operator fatigue detection system for use on industry and mining sites.
Terrestrial Energy Inc., the Canadian company with a mission to develop Generation-IV nuclear reactors using molten salt.
TranspoHub, an online auction and bid system for the transportation and energy sector.
White Knight Safety Solutions, safety management software for the petroleum industry.
Zeel GIS Solutions, a spatial pipeline database for the oil and gas industry.
For technology companies attempting to establish themselves in the oil and gas sector, competitions like this are great kick starters. I have attended similar events in Ontario that focused on biomedical technologies and have watched several start ups get on their feet through winning the prize money and recognition that subsequently created new investment opportunity.
What seems most gratifying is the number of companies focused on improving the environment around oil and gas extraction and production. If we are to continue to rely on fossil fuels for energy these technologies are much needed.
So kudos to University of Calgary and congratulations to all the companies who pitched and to those who won.

Related articles across the web