He looks a little like Robby-the-Robot, the fictional robot of the 1956 science fiction film The Forbidden Planet. Both Robby, seen below in the picture to the left, and Atlas, on the right, are bipedal. But Atlas has much longer arms that look more like the appendages of the cyber-creatures, The Borg featured in Star Trek.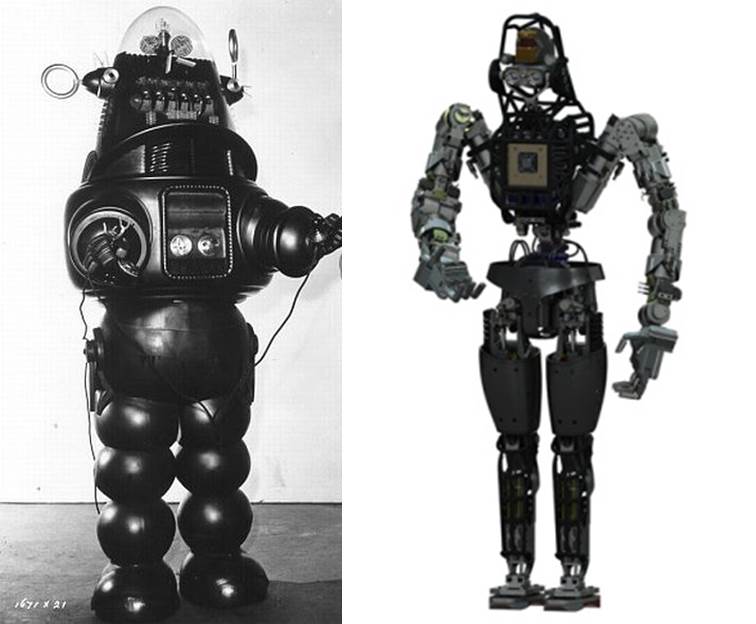 Atlas is a product of Boston Dynamics of Waltham, Massachusetts. Boston is working with DARPA, the research arm of the U.S. Department of Defense, to develop a wide range of robots including the SandFlea and BigDog. But these two bear no resemblance to a humanoid. Atlas does.
Currently you can watch a video of Atlas as the robot operates at the end of a tether. But plans are afoot to make it tether free. Standing 1.8 meters (6 feet) tall, and weighing 150 kilograms (330 pounds), Atlas is designed to go where it would be dangerous for humans to go while operating with a level of sophistication and autonomy. For example Atlas could defuse a runaway nuclear reactor before a meltdown happens, rescue people from an environmental disaster or battlefield, or even tend to the sick and elderly.
Atlas is designed to climb using both hands and feet. It features actuators and servomotors that give it flexibility and range of motion not seen in previous humanoid robots. The robot can adjust to impacts to keep its balance. Its head incorporates Carnegie Robotics' MultiSense-SL, a vision system that sees objects in three dimensions and incorporates LIDAR to map its immediate surroundings.
DARPA unveiled Atlas last week with the robot performing calisthenics to demonstrate its flexibility. It will be one of several robots in the DARPA Robotics Challenge, a contest running this year to test a number of robots to see if they can be used for disaster response.
The robots entering the contest will be asked to perform eight tasks to see if they can work in rough terrain and operate human machines and tools. This includes climbing and walking over complex terrain, entering, driving a utility vehicle (seen in the picture below) through an obstacle course and then exiting from it, removing a pile of debris blocking an entryway, opening and entering a building through a door, climbing stairs and ladders, breaking through a wall using power tools like drills and sas, locating and closing open valves, and carrying, unspooling and connecting a fire hose.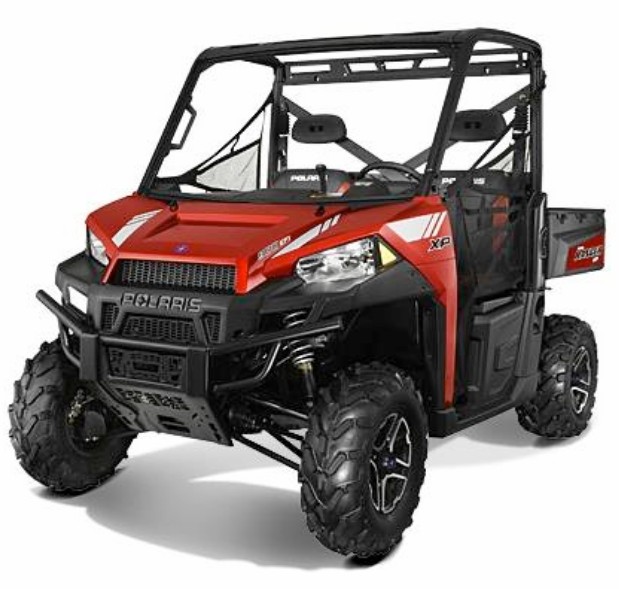 The Challenge features robots from many sources including entries from the United States, the United Kingdom, Japan, Mexico, Spain, Israel and Brazil. Universities such as Carnegie Mellon, Drexel, MIT, and Virginia Tech have brought their humanoid robots to the contest as has two divisions of NASA, the Jet Propulsion Laboratory, and the Johnson Space Center. There are even entries from private companies such as Boston Dynamics. These include robots from Raytheon, Schaft Inc., and Boston Dynamics.
Over the coming months as the teams respond to the eight challenges they will develop sophisticated software to tackle each mission. We'll let you know who are the winners.