May 17, 2017 – Innisfil, Ontario is a town spread out over a largely rural area north of Toronto where I live. Its population exceeds 36,000 living in a 263 square-kilometer (101 square-mile) area. That amounts to about 350 people per square mile, hardly a density associated with the development of a typical urban transit business model. Other than taxicabs or the implementation of a bus transit service, not much else makes sense for a place like Innisfil.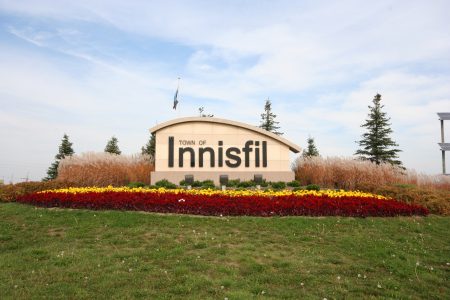 The town's municipal council looked at acquiring buses and developing routes where population density justified placing stops. But rather than spending a million dollars on a limited service with two buses and drivers, the council opted for implementing an on-demand ride program. In probably a first of its kind decision, they chose Uber to be the town's transit providerA visit to the
The service began two days ago. If you visit the Innisfil Uber site you can check out the various service offerings from uberX to uberXL, UberSelect, UberBLACK, UberSUV and even UberEats. Base fares start at $2.50 CAD for uberX running up to $15.00 for UberSUV. There are fixed rates to transit hubs like the one in the neighbouring city of Barrie which has a GO train station that connects to Toronto. The Uber site also comes with an estimator to allow users of the on-demand service to calculate costs before placing an order for a pickup.
One of the real challenges in building a 21st-century transportation model that works for all involves addressing all land use and settlement patterns. What works in a densely settled urban environment is inappropriate for small rural communities. The latter are not suitable places to offer urban mass transit. They are not likely to be the best places for building an electric vehicle infrastructure. Transportation choices beyond one based on gasoline and diesel-powered individual vehicles, whether personal or taxi, would seem to be highly impracticable and uneconomic.
Innisfil is pretty typical of a rural community attached to a greater metropolitan centre. In this case, the town has two larger neighbours, Barrie and Toronto. A smart transportation solution, therefore, is not one that conforms to the urban models we tend to describe as being environmentally sustainable. The dispersed nature of the settlement pattern suggests the need for multiple modalities in transportation and ones that are far more efficient than a lightly-used, scheduled service.
That's why the Uber pilot project initiative by the town of Innisfil makes a lot of sense. But it will be an even better strategy if the town council after the initial test opens up the competition to include other on-demand services.
As I looked at the Uber Innisfil plan one thing struck me. There is no mention of a service offered for people with disability. That appears to be an oversight that I am certain will be addressed.
Don't be surprised to find on-demand transit become a common model for small town and rural environments in the 21st century. The economics and sustainability of the solution make sense.