May 9, 2014 – I'm sure that Kinder Morgan, the company that has applied to twin its existing pipeline running from Alberta to the port of Burnaby, British Columbia, didn't mean to suggest what has become a most interesting quote. This comes from the application submitted by the company to Canada's National Energy Board.
"Marine spills can have both positive and negative effects on local and regional economies over the short and long-term….spill response and clean-up creates business and employment opportunities for affected communities,regions, and clean-up service providers, particularly in those communities where spill response equipment is, or would be, staged."
When someone ferreted out these two sentences from Kinder Morgan's application you can imagine the media and public response the company received. A spokesperson for the company pointed out that to single out this content within the application's 15,000 pages was "ludicrous."
The explanation from a senior director at Kinder Morgan:
"It was not written to be a standalone piece and in no way reflects any sort of appetite or acceptance for spills….the piece from this large, thorough application is pulled out, out of context, and is being used to suggest we might have some tolerance or acceptance for spills…..that borders on ridiculous."
What actually is ridiculous is the inclusion of any such statements in an application to get approval to build a new pipeline.
Imagine promoting oil spills as a job creator? Because that's what was stated…not implied. And no one in the $94 billion company had the brains to edit this out of the application.
Kinder Morgan is an American company that owns and operates almost 130,000 kilometers (80,000 miles) of pipeline. In operation since 1997 it has a history that includes more than 1,800 noted violations of which 500 involve pipeline operations. Not all have been oil and chemical spills. Some have been attributed to operator failures and accidents. Is it worse than other pipeline providers? No. Like most of the other operators of pipelines, oil spills and it needs to be reported and remediated. But remediation should not be described as a job creator.
In 2005 Kinder Morgan purchased Trans Mountain, the pipeline of concern that is at the centre of this 15,000 page application. As new owners that year the current pipeline ruptured dumping 210,000 liters (over 55,000 U.S. gallons) of crude oil into a local creek. In 2007 a road crew ruptured a section of the same pipeline causing a 250,000 liter (66,000 gallons) leak into a local storm sewer and eventually into the Burrard Inlet, an arm of the Pacific Ocean (see picture below taken by Gerry Kahrmann). In 2009, 200,000 liters (almost 53,000 gallons) leaked from a Kinder Morgan storage tank farm along the route. And in 2012 110,000 liters (29,000 gallons) of oil leaked from a Kinder Morgan holding tank because of a frozen gasket. I am sure that the company employed many people in all these incidents to clean up as best they could the mess of their own making. But I don't think this type of employment would be considered by any reasonably acute individual to be of benefit to the local and regional economies.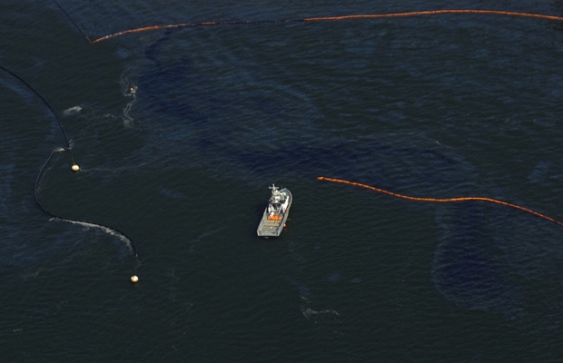 That's like saying tornadoes are job creators because after they destroy a town look at all the reconstruction opportunities. Or Hurricane Katrina and Sandy, what great job creators.
Kinder Morgan's President, Ian Anderson acknowledges that spills do happen and that they are "not good for anyone…period." But the company is sticking to its story that the reference from the 15,000-page application is taken out of context. Anderson goes on to say "spills are not part of our economic benefits analysis, nor do we in any way say that money spent on spill response would be justification for our project."
Now don't we all feel better!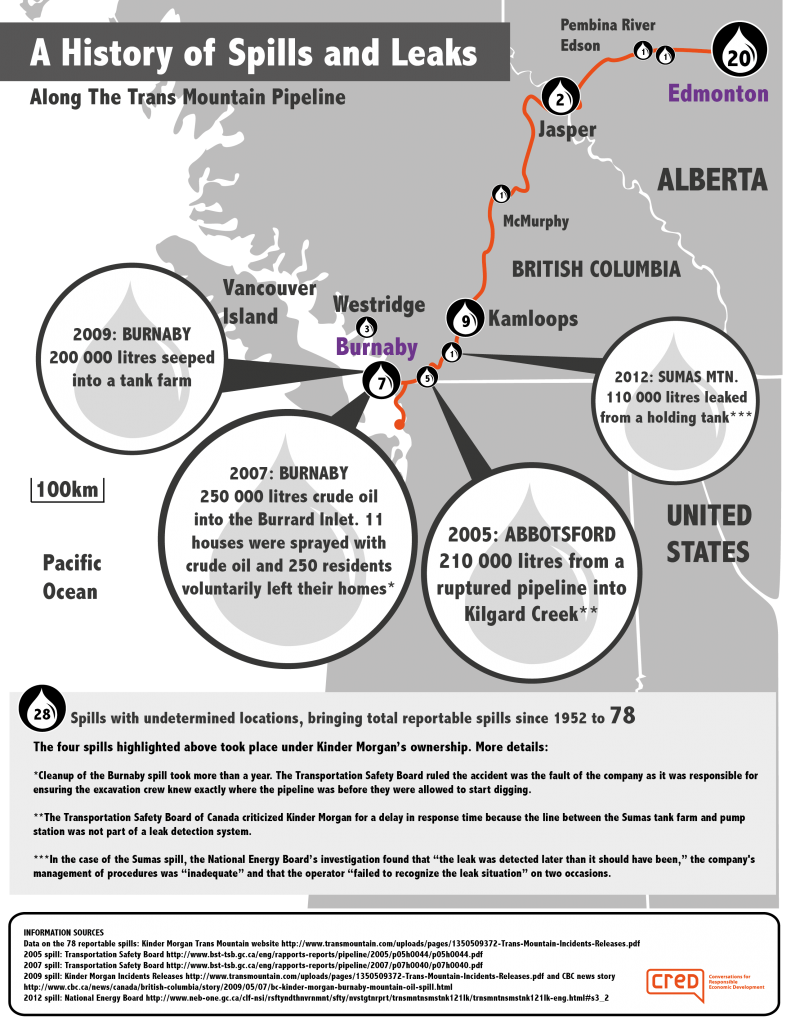 Related articles across the web