May 4, 2014 -We are becoming more adept technologically in recycling. We do it with aluminum, steel, plastic and paper. So why not carbon? If we are to continue to rely on burning fossil fuels then capturing carbon and transforming it appears to be the best approach we in the 21st century can take to address the challenge of rising atmospheric CO2. It certainly beats burying it in geologically stable rock formations or pumping it in liquid form into deep ocean repositories and the seabed. In either of these two cases the captured and sequestered CO2 remains a long-term liability with the potential to leak back into the atmosphere over time.
Carbon in CO2 doesn't have to be the liability it appears to be today. We can through mineral carbonation turn it into useful products with many industrial applications. That's why a start up company called Skyonic has developed SkyMine, an electrolytic carbon capture process, that can turn captured CO2 into salable products by mineralizing the CO2 from flue gases and waste streams in industrial plants. Its The irst commercial scale installation (seen in the image below) is being built today adjoining a cement plant in San Antonio, Texas. It should be in operation sometime this year.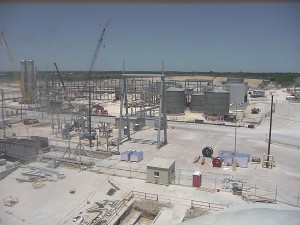 The SkyMine process, which replaces scrubbers found on some of today's coal-fired power plants, turns the CO2 into solid carbonates and bicarbonates which represent permanently sequestered carbon useful for landfill or in waste remediation and biofuel plants to stimulate algae growth.
SkyMine technology turns the management of carbon pollution from expense to profit. It is configurable to remove varying amounts of CO2 from 10 to 99%, making it fit many different production and power plant configurations.
SkyMine is the first of a number of Skyonic patented technologies aimed at turning carbon capture into a profitable business. A second technology, SkyCycle (TM) uses thermolytic mineralization technology to capture CO2 and turn it into calcium carbonate, limestone and hydrochloric acid. A third technology, SkyScraper (TM) is an advanced scrubber designed to remove sulphur dioxide, nitrous oxide, mercury and other heavy metals from the waste flue gases.
Related articles across the web