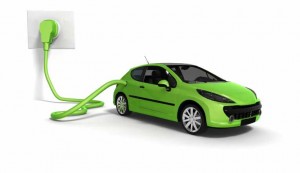 I saw two Chevy Volts in the last week, both in my neighborhood. Going by looks it is a very sexy car. And as I walked my dog Maya this week I also ran across an EV Smart Car. That's more electric cars than I have seen in the past and interestingly reflects what is starting to happen here in North America because EVs are starting to catch on. The sales aren't dramatic but GM. But going by sales Volt is still trying to win acceptance among EV buyers. That is not the same for Tesla whose Model S is clearly a market leader with 2013 sales projected to exceed 20,000 and based on advanced orders the numbers should double in 2014. Through the first seven months of 2013 Americans have purchased 48,489 plug-in EVs. At this rate the total sales will easily surpass the 52,835 sold in 2012, a jump from 17,735 the previous year.
These are not statistics about hybrid cars which today are selling well in North America but still have no more than a 4% market share. Just pure plug-in EVs. And who are the players? On the EV-Info site there are 380 listed manufacturers of EVs or EVs with extended range options such as the Chevrolet Volt. But for the most part the manufacturers listed at this site are in the business of building off-road vehicles for industrial or recreational application. What is changing today is the move from off to on-road and leading the pack are companies like Audi, BMW, Chery, Citroen, Fiat, Ford, Geely, GM, Honda, Hyundai, Kia, Mercedes-Benz, Mitsubishi, Nissan, Opel, Peugeot, Renault, Skoda, Tata, and Tesla. Not all of these are household names but more of the companies we recognize as market leaders are joining the pack.
One of the reasons for the rise in sales is falling technology costs. Tesla's Model S is priced considerably lower than its original EV and with tax credits puts it in the mid-range luxury automobile class between $60 and $70,000 US. Tesla plans to launch an even cheaper EV in 2014, an SUV that will be priced around $35,000 US.
To stimulate Volt sales, GM recently lowered its price by $5,000 US to $34,995 for the 2014 model.  And recently a GM executive foresaw a further decline in pricing for the next generation Volt lopping off as much as another $5,000. Meanwhile Nissan's EV entry, the Leaf, has had its price shaved by $6,400 US bringing the entry-level model down to $28,800.  The Leaf has been averaging sales of just 10,000 a year since it was introduced in 2010. After announcing its price reduction Nissan's year-to-date sales are up 230%.
Meanwhile Toyota, the creator of the first commercially successful hybrid electric car, the Prius, launched a pure plug-in model in 2012. But it seems Prius is still seen by the public as a hybrid brand because its plug-in, which sold 12,750 units in the 10 months after its introduction, is not expected to do much better in 2013.  For an EV scorecard on who is selling what check out Inside EVs.
The three main stumbling blocks to faster adoption of EVs continue to be:
The higher cost of EVs when compared to internal combustion engine and diesel-powered vehicles.
The limited range of EV plug-in models.
The recharging infrastructure and the ability to match recharge times with traditional powered vehicles.
Tesla is leading the pack in building a network of EV stations to allow Model S drivers to go coast-to-coast. But other manufacturers have yet to announce similar plans. If you are in North America and thinking of buying an EV you may find PlugShare and its map of EV charging sites useful.