December 21, 2013 – With four shopping days left before Christmas here's a present you may want to consider for the technology geek in your family that wants to be on the ground floor of a revolutionary change in photography. Meet the Lynx A Camera. It isn't meant for the occasional photographer but for those who want to be on the leading edge.
Lynx A is a 3D camera that renders a three-dimensional image suitable for printing on a 3D printer. A product of Austin, Texas-based Lynx Laboratories, the company was crowdfunded through Kickstarter back in March of this year raising over $86,000 from 219 backers, well above the $50,000 U.S. funding target.
Lynx A looks like a big, thick tablet computer. It has an imposing 38 centimeter (15 inch) display and comes with a USB port, 500 Gigabytes of storage and a rechargeable battery that allows for 2-hours of imaging. The Lynx A uses a standard colour camera lens combined with an infrared-light projector. The graphics processor interprets the input of both making billions of calculations per second to render a detailed 3D image that is accurate to within 2 millimeters. The captured image can then be printed by a 3D printer  as seen on right in image below.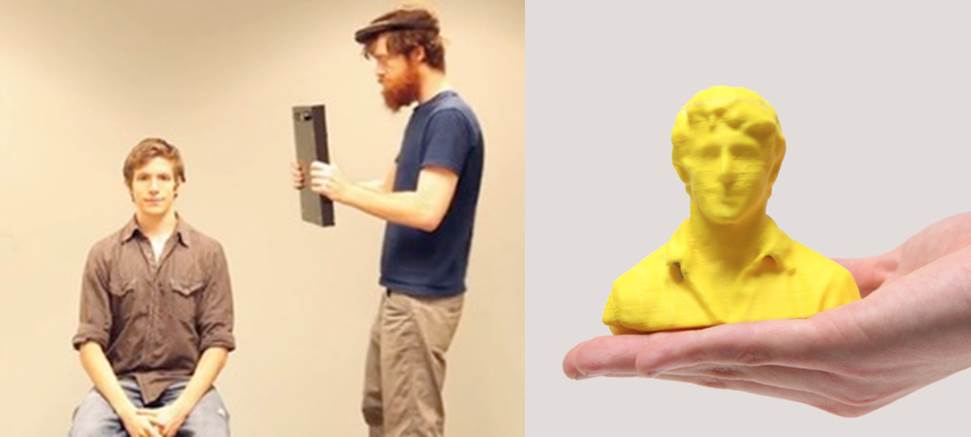 The Lynx A on Kickstarter was being offered to backers for as little as $1,799 U.S. When you consider it has the computing power equivalent to nine tablet computers, the price seems fairly reasonable. You can put in a request to order one on the Lynx Laboratories website.
The inventors see all kinds of applications beyond home hobbyists for the Lynx A. It can be used to image components for rendering them in 3D in manufacturing. It can provide accurate 3D models of buildings. It can be used in creating custom-fitted prosthetics. And how about special effects applications for the movie industry?
Related articles across the web