November 22, 2013 – When I was a much younger man there were HeathKits as seen in the picture below. You ordered one and with soldering iron and a bunch of other tools assembled your own computer.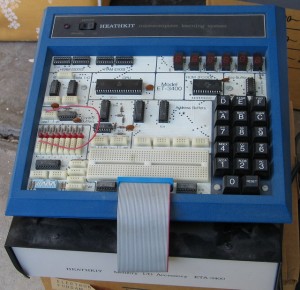 Well it seems that the kitted computer is making a comeback with crowdfunding on Kickstarter turning the idea into a reality. As of today Kano has raised more than $450,000 from over 4,000 backers. The project team is based in London, in the United Kingdom, with a design team that is truly a sign of the power of collaboration in the Internet Age. Team members come not only from the UK but Israel, South Africa, Spain, Sweden, Italy, and the Czech Republic.
Kano is built around Raspberry Pi, a computer on a credit-card-sized circuit board that features built-in 512K RAM memory, an RCA video jack, SD card slot, LAN, USB, audio output and other features. Kano adds a custom case with decorative stickers, an 8 Gigabyte SD card, the Debian Linux operating system, a number of games and software programs to allow you to write your own code, all the cables and power cords you need, a keyboard, a D.I.Y. speaker, WiFi power up, and all in a package that can fit through most mail slots. All you do is add a monitor. If you had pledged $99 U.S. you would have received a complete Kano kit including an illustrated guide book to help you assemble it. But alas this category on Kickstarter is sold out. It seems the only way you can get in on the deal now is to make a pledge of $999. That gets you a complete Kano Lab with 10 Kano kits and the Kano Companion, a complete curriculum for teachers. That's not a bad deal for schools. With Kano planning to ship its first kits by July 2014, it looks like a winner and sure seems a lot easier to put together than my first HeathKit.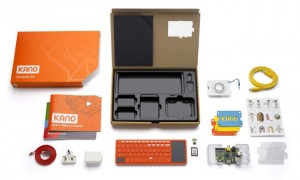 Related articles across the web