November 3, 2013 – Luci is a solar-powered lantern designed to shed light in homes where kerosene-fueled lamps are used today. It is the creation of MPowerD, a New York City based company dedicated to eliminating energy poverty for the 1.3 to 1.5 billion on the planet who have no reliable or irregular access to electricity for lighting and other domestic uses. Each Luci comes flattened and is about the size of a DVD. When opened and switched on the 10 LED lights illuminate an area of about 1.4 square meters (15 square feet). A single 8-hour solar charge can provide as much as 12 hours of light depending on which of three settings is chosen (task light, flashlight or lantern).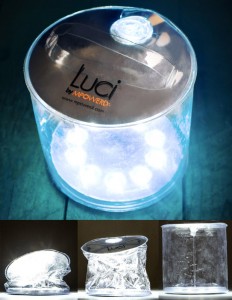 Luci incorporates a rechargeable lithium-ion battery and weighs 127 grams (4.5 ounces). Made of see-through plastic and collapsible it can easily be taken on camping trips for use in tents. It easily attaches to walls or ceilings.
Current price per unit is $14.95 U.S. with a $5.00 discount on multiple unit orders. This may seem expensive but when you consider the cost of monthly kerosene use for homes in the Developing World at as much as $20 U.S. then Luci pays for itself in less than a single month. And in replacing kerosene Luci reduces CO2 emissions. The company as of mid-October had already sold 100,000 with back orders of an additional 100,000. So "let there be light….for everyone," MPowerD's sales pitch, seems to be working.