April 10, 2014 – Using agricultural land to grow an industrial crop to convert to fuel seems like a make work project for farmers. Yet an entire subsidized industry has grown up in Brazil, the United States, Canada and other countries doing just that. In Brazil they turn sugar cane into ethanol (which I don't mind too much since sugar in my book is more a food additive than a food). In North America, however, it is corn that we use to produce biofuel. I know it's corn that we wouldn't grow for human or animal consumption but it is tying up acreage that could be growing food. And it would seem to me that agricultural land, even that considered marginal, could be put to better use.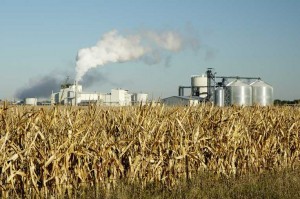 That's why what Stanford researchers have discovered could prove to be a game breaker, a far less resource intensive way to produce ethanol and other biofuels. What are they doing? Synthesizing ethanol using copper catalyst, CO2 and water by first converting the CO2 to CO (carbon monoxide) and by applying electricity yielding ethanol. What makes this potential technology (it still is in the laboratory at present) so exciting is its scalability. All of us could start producing ethanol simply by using a power source at home like solar panels on our roof, harvesting CO2 from the air, adding water and producing ethanol. That ethanol could serve to power our homes when the Sun is not shining.  Or we can use it as fuel for our transportation requirements. On a larger scale existing coal-fired power plants would be able to capture the CO2 they exhaust into the air, use the copper catalyst, add water and electricity and create ethanol in significant volume for resale.
How does it work? The key is in the copper catalyst. Copper uniquely can reduce CO in the presence of water converting it to ethanol but in the past it has proved to be highly inefficient. The Stanford team discovered that by altering the copper metal, heating it in air to form a layer of copper oxide, they could then treat the oxidized surface chemically to create a network of copper metal nanocrystals (see the image below). They found when they applied electricity they saw a ten-fold increase in the copper's efficiency in converting CO and water to ethanol. Now they are experimenting to produce other biofuels such as propanol which has an even higher energy density than ethanol.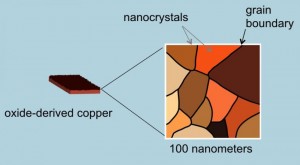 Can we humans have our cake and eat it too because of what these Stanford scientists have discovered? Think about it. If we can harvest CO2 from the air, efficiently convert it to CO and then manufacture chemical fuels we will have created the 21st century's answer to controlling greenhouse gas emissions. You can read the published paper on this research in the latest issues of the journal Nature.
Related articles across the web